What sets TouchPay apart is our well-rounded and innovative payment solutions for all people involved in the payment process—agency and facility staff as well as your customers.
Secure
Payments are 100% guaranteed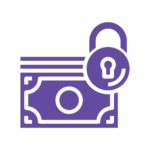 Compliant
All Federal rules and regulations are met
Efficient
Payment processing is completely automated
Convenient
Intuitive processes for customers and staff
Flexible
Multitude of options allows customers to select what works
Proven
Licensed or authorized Money Transmitter in all 50 states, District of Columbia, and Puerto Rico 
What agencies and facilities can expect
Increased payments with increased available payment channels

More convenience for customers who can make payments where, when, and how it best works for them

Less disruption of service thanks to more contactless payment options, so payments can keep coming when customers cannot

Increased safety for both your staff and customers with reduced in- person contact

More efficient operations, allowing you to save money and reallocate staff

No more cash-handling responsibilities, such as counting, processing, etc.
TouchPay offers quality, but it is also our quantity of transactions that sets us apart and showcases the breadth and depth of our experience. Annually, TouchPay:
automated payment transactions
in credit card transactions
A key player in the payments industry since 2003, TouchPay provides seamless money services solutions that benefit both agencies receiving payments and their customers making payments.
Historically, TouchPay has been the first- to-market with technologically advanced, comprehensive payment platforms. TouchPay's platform handles the entire end-to-end electronic payment process for governmental agencies and correctional facilities alike. Over its lifetime, TouchPay has provided facilities and agencies in all 50 states with payment solutions that fit their needs.